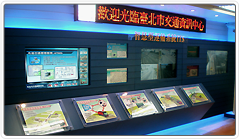 The Intelligent transportation system, also known as ITS, integrates information technology, communications, electronics, control and management hardware and software to achieve automation and improve the quality of traffic service, offering nine major services. Let's first take a look at the four services on top.
First is the advanced traffic management services (ATMS), equipped with vehicle detector (VD) and closed-circuit television cameras (CCTV). VD is mainly used to detect traffic flow, vehicle speed and road share of different vehicle types. These two big screens here are showing real-time video from the CCTV feed.
Next is the advanced traveler information services (ATIS). This digital photo frame displays photos of CMS, VD and CCTV. The constantly changing message sign shows real-time traffic information, collected from the VD and computed by the computer center. It also provides parking information by displaying available parking spaces at various parking lots.
The third is advanced public transportation services (APTS) mainly used on buses. More details on APTS will be introduced when we get to the public transportation system and bus shelter.
The last one is electronic payment service (EPS). Easycard is one of the major applications. Now, EasyCard can be used to pay for the MRT, buses, trains, intercity buses, Maokong gondola, the Blue Highway and parking, and to borrow books, rent bicycles, and pay for small fees at designated stores.
Next up are the five services at the bottom. First is the emergency management service (EMS). In cases of emergency, the computer system will indicate the shortest path for the emergency center to quickly and efficiently dispatch fire trucks, ambulances or tow trucks to the site of incident.
Next is the commercial vehicle operating service (CVOS) mainly used in logistics as well as taxi service. Take taxi as an example: the call center can inform the nearest taxi driver to pick up passengers via the management system.
Then we have the information management service (IMS). IMS provides information integration among the traffic control centers in different cities for data exchange, allowing users to check updated traffic information using mobile devices.
Advanced vehicle control and safety service (AVCSS) is mainly used in vehicle manufacturing, for example, anti-collision warning system. When the front or rear is too close to another vehicle, a warning sound reminds the driver to keep a safe distance.
Lastly, the vulnerable individual protection service (VIPS). Audio signals have been set up at major intersections in Taipei City. Bike lanes and pedestrian-only lanes will be introduced and displayed in further detail later.
This big touch screen displays a variety of video clips about the 9 major ITS service. All the information will be available at your fingertip.
Audio Tour Download(wav file)